Internal padding & partitions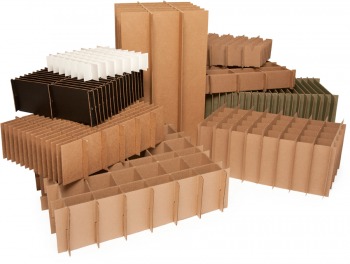 Pads are flat sheets of corrugated cardboard. The thickness can be either single wall or double wall. A pad, commonly called a slip sheet, can be used on the top of a pallet to protect items placed on the pallet. Top and bottom pads the full size of the opening of the box can be used to give a double layer of protection. Pads can be used either vertically or horizontally to separate products or layers of products.
Partitions provide separate cells for products. These are usually used for separating bottled products or for packaging fragile items such as glassware.

Inner packaging  has a wide variety of shapes. Pictured above is a glue build-up pad made by gluing multiple pieces of corrugated cardboard together to make a block. Corrugated cardboard can be scored, folded, and glued to make many packaging items. They are used for cushioning, separation, and suspension of products.